Climate Change Week at the STDF
3 to 6 May 2022
Webinar 1 Recording: Climate change and animal health
Webinar 2 Recording: Climate change and plant health
Webinar 3 Recording: Climate change and food safety
Webinar 4 Recording: Climate change and SPS issues – looking ahead
Background

Climate change is a major disruptor of the global food system, changing the way food is produced, processed, stored and distributed. Extreme weather events, droughts and rising temperatures affect distribution patterns of pests and diseases and contribute to increased and new sanitary and phytosanitary (SPS) risks. Although the relationship between climate change and food safety, animal and plant health is complex, the impact of erratic weather patterns is clear: It hits farmers and producers in developing countries the hardest, as they oftentimes lack the skills and resources needed to adapt quickly.

Trade is inextricably linked to the effects of climate change on the world's food supply, presenting both opportunities and challenges. As agro-climatic zones shift, new regions will face food deficits, requiring increased trade to meet demand. At the same time, unsafe trade can be a pathway for the spread of pests and diseases to new regions. Climate change will bring about new challenges for the design and application of food safety, animal health and plant protection measures in international agricultural trade. The capacity to face these challenges will differ across countries and food systems.
Purpose

The four inter-connected webinars will bring together representatives of STDF partners and stakeholders on the ground, to explore the challenges of climate change for food safety, animal and plant health, and identify opportunities to respond to emerging risks and facilitate safe trade.

An overview of climate change-related work by the STDF and its partners is available here.
Programme

All webinars will be held in English, with interpretation provided in French and Spanish.


Climate Change and Animal Health
3 May 2022, 14.00 – 15.00 (CET)
Climate change is already having an impact on animal health globally, including through the spread of vector-borne diseases and increased susceptibility of animals to infections. This matters for the production and trade of livestock and livestock products, as well as for livelihoods and economic growth. This webinar will take a deeper look at these impacts, with a focus on how climate change is expected to increase the risk and spread of Rift Valley fever in East Africa, a trade-sensitive animal disease. Key questions to be addressed will include:
How is climate change affecting the emergence and transmission of animal diseases and zoonoses, and what are the implications for trade?
What does this mean for veterinary services and the private sector in developing countries in terms of livestock production and trade?
What tools and mechanisms already exist at a global and national level to help manage the challenge of climate change for animal health, and what additional support is needed?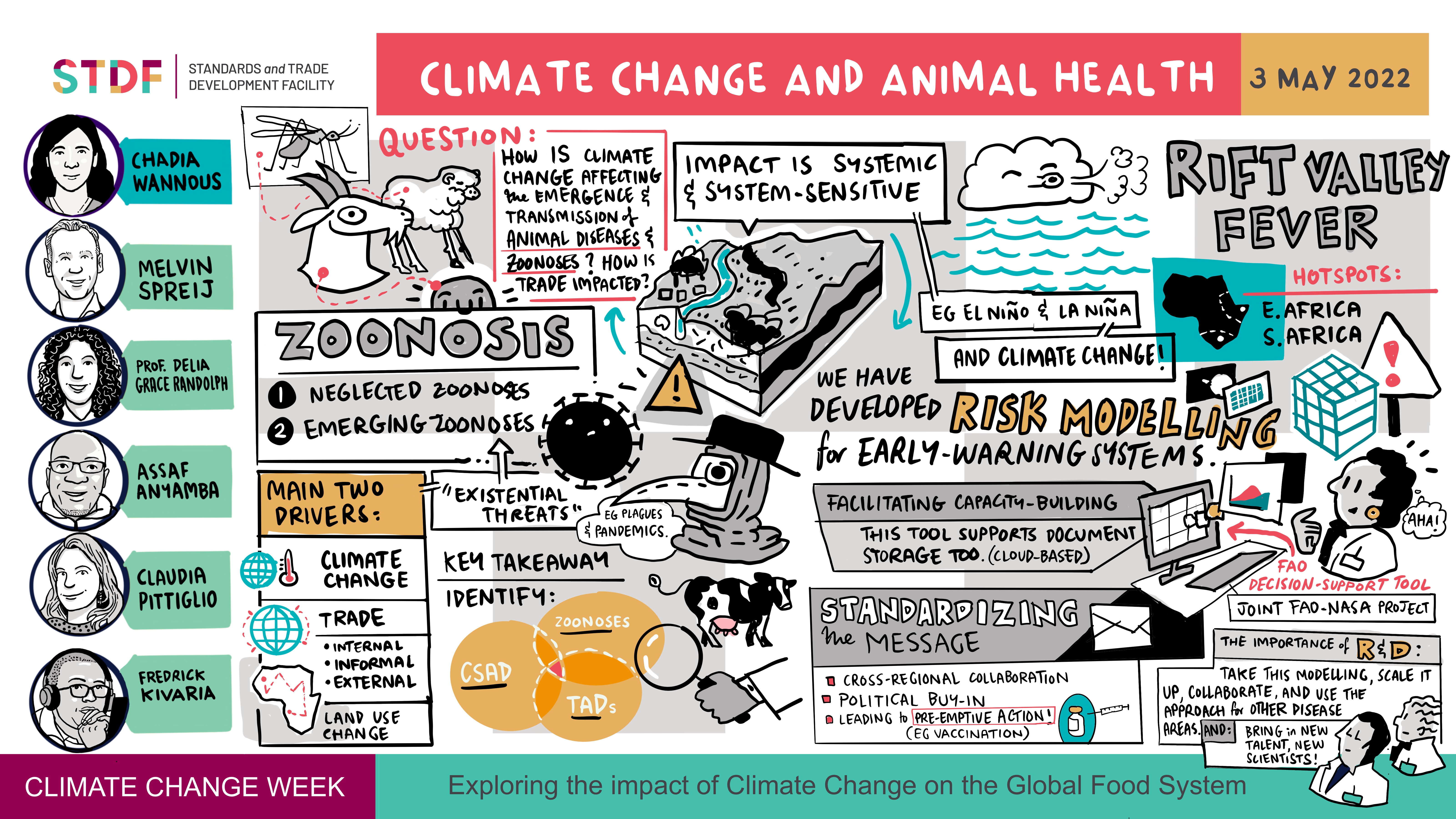 Climate Change and Plant Health
4 May 2022, 14.00 – 15.00 (CET)
Climate change is expected to exacerbate the risks associated with the spread of plant pests and diseases globally, with potentially devastating effects on agricultural ecosystems, food security and the environment. Plant pests are already responsible for the loss of some 40% of global crop production, costing the global economy more than $220 billion annually. Invasive pests, one of the main drivers of biodiversity loss, cost countries at least $70 billion. This webinar will explore strategies to protect plant health and facilitate safe trade in the context of climate change, with a focus on the coffee berry borer, one of the most serious pests affecting coffee worldwide. Key questions to be addressed will include:
What are the main findings and recommendations for policy makers from the IPPC's scientific review of the impact of climate change on plant pests?
Why is cooperation, across countries, regions and the public and private sector, important to address the risks of climate change, and what can we learn from existing initiatives (e.g. regional strategies for pest management or biopesticides, joint monitoring and surveillance) to facilitate safe trade?
How can innovation and technology play a role in supporting the public and private sector to protect plant health in the face of climate change? And how can we scale up solutions that work in one country for broader application across other countries and regions?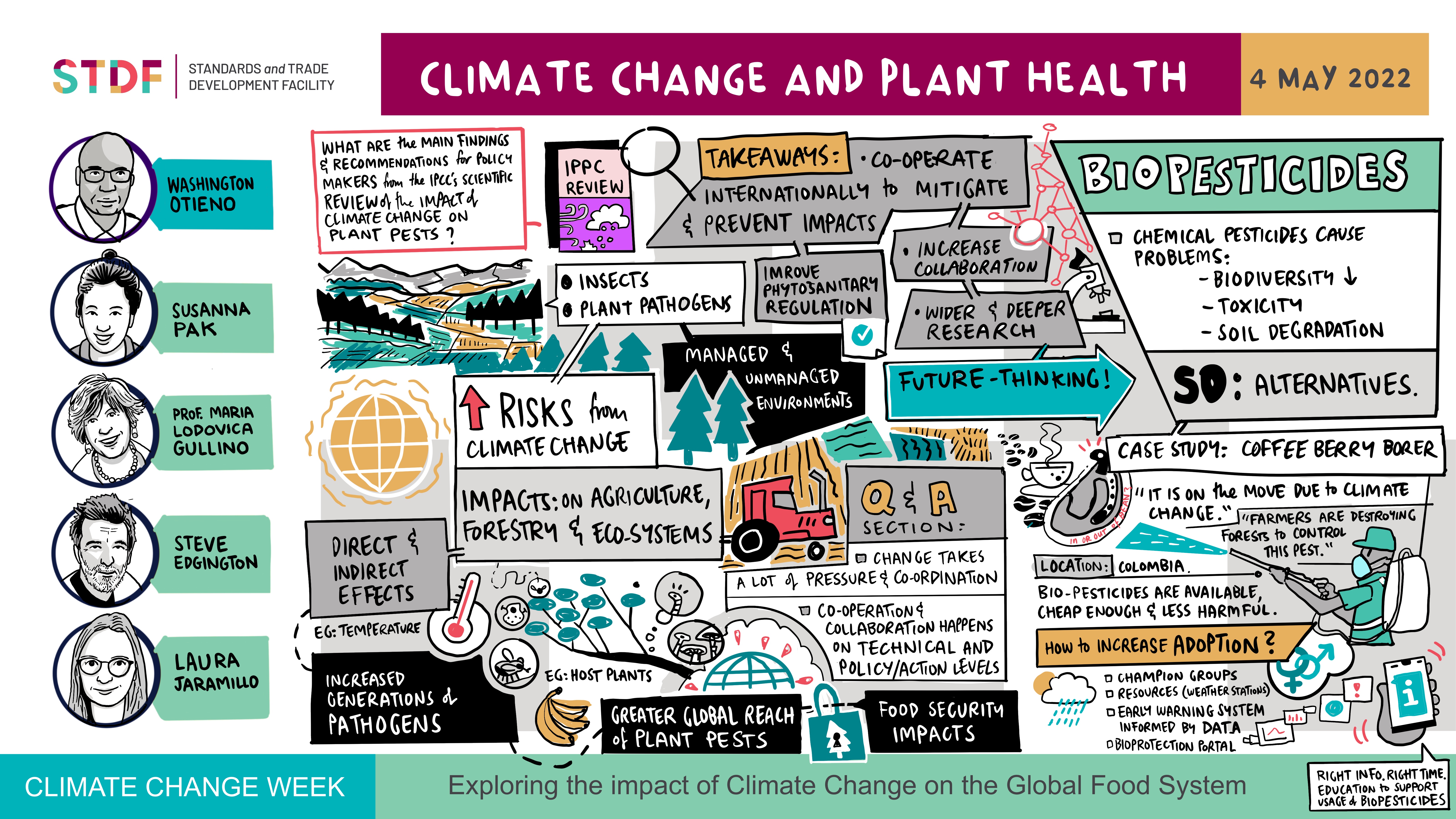 Climate Change and Food Safety
5 May 2022, 14.00 – 15.00 (CET)
Climate change is altering and increasing the challenges faced in food production from farm to fork. Long-term shifts in temperature, humidity, rainfall and overall weather patterns affect the persistence and occurrence of bacteria, viruses, parasites, harmful algae, fungi, as well as corresponding foodborne diseases and risk of toxic contamination. This raises issues for food safety and the management of food control systems, as well as food security and food systems transformation. Regulators and practitioners must work together to respond to the effects of climate change on food safety.
Why do policymakers and food safety practitioners need to pay greater attention to the food safety implications of climate change? Should this be part of broader discussions on food security?
How can regulatory systems adapt and effectively respond to the growing impacts of climate change on food safety? How robust are Codex standards, codes and guidelines for the task ahead?
How can the public and private sector work together to improve food safety management practices across supply chains in the face of climate change? What innovative solutions exist?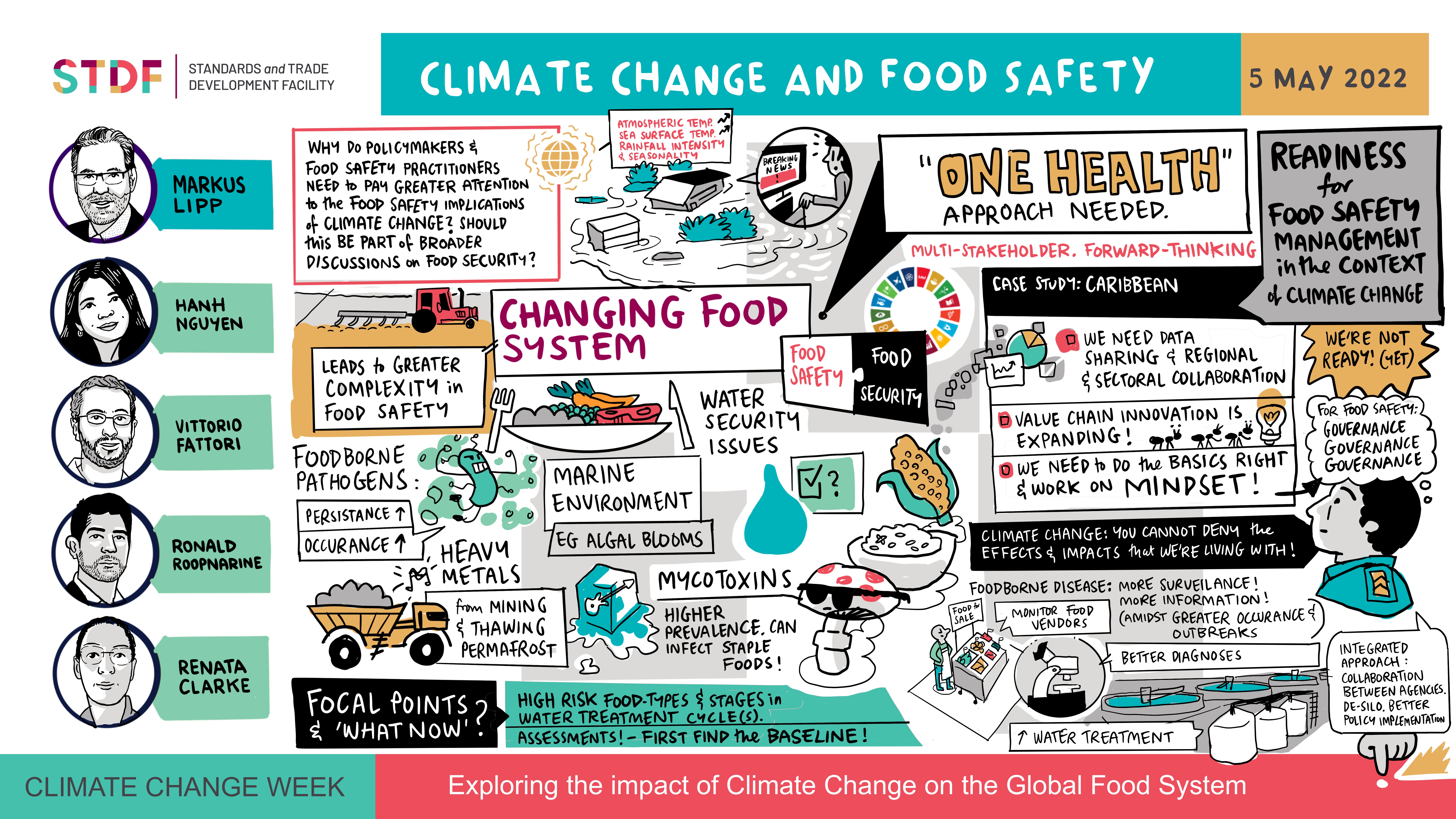 Climate Change and SPS issues – Looking ahead
6 May 2022, 14.00 – 15.00 (CET)
Looking ahead, addressing the impact of climate change on animal health, plant health and food safety in a holistic way will require regulatory and systematic changes, the active involvement of a wide range of stakeholders, as well as funding of those efforts. This final webinar will synthesize common challenges and opportunities, draw lessons and make recommendations on next steps in SPS capacity development.
How can the implications of climate change be addressed, as part of countries' national SPS systems and policies? How should we deal with climate change in risk assessment? What role do climate-friendly practices and innovation and technology play?
A more coordinated and holistic "One Health" approach is often recommended to manage the threat of climate change on food safety, animal and plant health? What does this mean and how might this be implemented?
We must anticipate an accelerated impact of climate change on SPS risks, which will require ability to react and respond. How can we enhance awareness, mainstream climate adaptation in SPS capacity development and mobilize additional resources?
Moderator
Melvin Spreij, STDF Secretariat
Welcome remarks

Jean-Marie Paugam, Deputy Director-General, WTO

Key findings and recommendations from previous webinars

Chadia Wannous, OIE

Washington Otieno, CABI

Markus Lipp, FAO

Discussion

Christiane Wolff, WTO

Ana Cristina Canales Gomez, World Bank Group

Q&A
All
Closing remarks
Marlynne Hopper, STDF Secretariat