STDF's global partnership drives catalytic SPS improvements in developing countries and facilitates safe trade, in support of the UN's 2030 Agenda.
The Theory of Change in the STDF Strategy for 2020-2024 outlines the pathway through which change will be achieved.
The STDF Monitoring, Evaluation and Learning (MEL) Framework provides a way to assess how the STDF delivers results and influences changes in SPS capacity that facilitate safe trade. At the same time, it promotes learning about innovative and collaborative approaches to SPS capacity development, including the linkages with cross-cutting issues like gender equality and the environment, that can further improve performance and impact. A new online MEL Tool is being rolled out to promote innovation and improvements on MEL.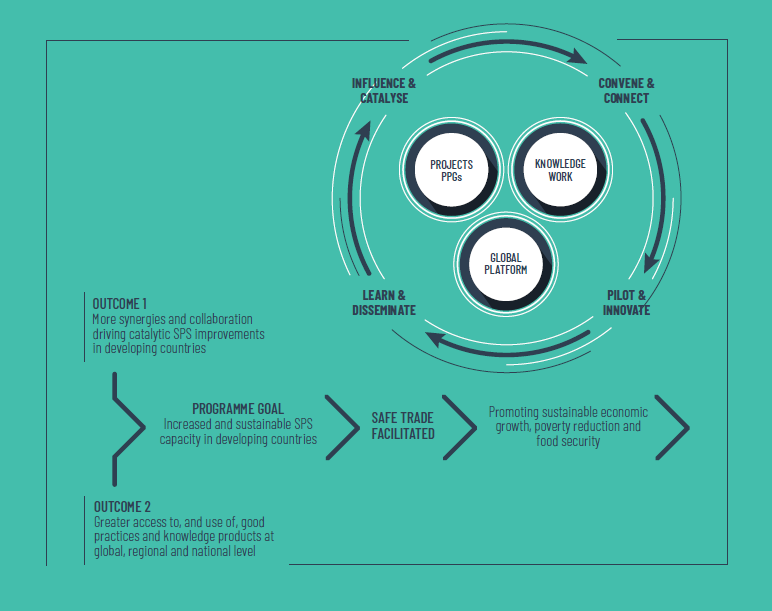 The STDF delivers results through its global platform, knowledge work and funding to develop, implement and learn from innovative pilot projects.
The STDF has delivered inclusive, safe trade solutions in key SPS areas through over 220 projects and project preparation grants across Africa, Asia-Pacific and Latin America and the Caribbean since 2004.
Close to 65% of STDF funding for projects and project preparation grants benefits least developed countries and other low-income countries, over and above the 40% target.
STDF's knowledge work on cross-cutting thematic topics (including public-private partnerships, electronic SPS certification and good regulatory practice) identifies and promotes good practices to improve SPS capacity development outcomes.
STDF's global platform convenes and connects diverse public and private sector organizations across agriculture, health and trade to exchange experiences, identify opportunities for collaboration, and promote a more coherent approach to SPS capacity development.
Find out more about the results of STDF's work in STDF Annual Reports and the STDF Results book.
Why join the STDF global partnership


"The STDF is responding to the needs of developing countries in its focus on building SPS capacities to enable and unlock trade."

"The STDF and the STDF Secretariat have delivered outputs and results beyond what might be expected given their budget and resources."